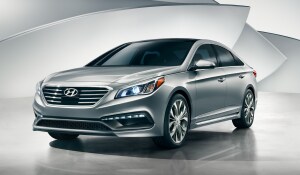 For drivers in the St. Charles, St. Louis, and O'Fallon area looking to get behind the wheel of a stylish sedan, we're going to show you the 2016 Hyundai Sonata. In this vehicle review, we'll focus our attention on engine power and efficiency, interior space and comfort, and entertainment technology. This review will give you a firm understanding of what this impressive vehicle comes with and how you can test drive it so you can see how it handles on the open road.
2016 Hyundai Sonata Engine Power and Efficiency
The 2016 Hyundai Sonata is equipped with a 2.4-liter inline four-cylinder engine that features a six-speed automatic transmission with SHIFTRONIC®, which gives you the option of up or downshifting to accelerate according to your preference. The vehicle has the ability to reach 185 horsepower with 178 lb-ft of torque.
For fuel delivery, the Hyundai Sonata features gasoline direct injection. This system measures how much fuel your engine actually needs to run without wasting gasoline. Because of this system, the Sonata gets an EPA-estimated 25/38 city/highway mpg.
Interior Space and Comfort
The Hyundai Sonata is capable of carrying five passengers inside its spacious cabin. The interior upholstery is made of premium cloth.
In terms of space, the front passengers will enjoy stretching out with the 40.4 inches of headroom and the 45.5 inches of legroom. The rear offers 38 inches of headroom and 35.6 inches of legroom. The vehicle also features 16.3 cubic feet of cargo space.
Entertainment and Technology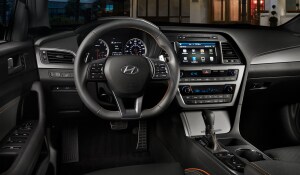 The 2016 Hyundai Sonata is outfitted with a six-speaker sound system that can play audio entertainment from the vehicle's many forms of media. The vehicle features HD Radio®, which allows you to listen to standard AM/FM broadcasts at a higher sound quality. Lovers of talk radio will appreciate this more because it reduces the irritating buzz that comes with AM frequencies.
For additional entertainment, the Sonata offers a three-month trial subscription of SiriusXM® Satellite Radio. This service offers over 150 channels of listening entertainment that can suit any taste or preference.
The vehicle also offers Bluetooth®, which allows you to have phone conversations while driving without having to take your hands off the steering wheel. Conveniently, you can access the cruise control, audio, and Bluetooth® with the steering wheel-mounted controls.
2016 Hyundai Sonata Overview
In this review, you learned about the key features of the 2016 Hyundai Sonata, so you can now consider yourself an expert on this impressive sedan.
So far you learned that this vehicle offers a powerful engine that doesn't waste fuel and features a spacious cabin, so you and your passengers won't feel cramped during longer car rides.
Lastly, you learned about the entertainment and technology features, that the Sonata will not only maximize your listening pleasure with the HD Radio® and SiriusXM®, but the convenience of having the cruise control, Bluetooth®, and audio available via the steering wheel also is a major benefit. Overall, you now know that this car offers a lot.
Schedule a test drive of the 2016 Hyundai Sonata today at St. Charles Hyundai, your go-to dealership in the St. Charles, St. Louis, and O'Fallon area.