Take a Peek at the All-New 2017 Hyundai Elantra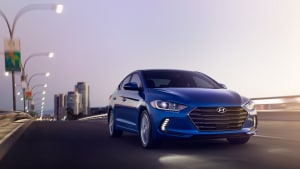 Drivers in the St. Charles, St. Louis, and O'Fallon area looking for a reliable and stylish sedan should take a look at the 2017 Hyundai Elantra. This vehicle offers a lot in terms of fuel efficiency, style, and safety, so we're going to delve in deeper to give you a better idea as to what to expect with the 2017 Hyundai Elantra.
Learn more about the Hyundai Elantra with our Vehicle Comparisons
2017 Hyundai Elantra Engine Power, Performance, and Efficiency
The 2017 Hyundai Elantra features a 2.4-liter inline four-cylinder engine with a six-speed manual transmission. This engine has the ability to reach 147 horsepower with 132 lb-ft of torque.
In terms of fuel efficiency, this vehicle gets an EPA-estimated 26/36 city/highway mpg. The fuel economy is benefitted by the vehicle's multipoint fuel injection, which features a fuel injector for each cylinder, giving your vehicle the necessary fuel for acceleration while limiting fuel waste.
Technology and Entertainment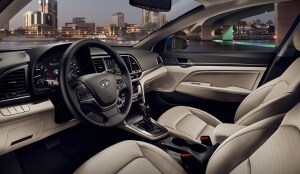 For audio delivery, the 2017 Hyundai Elantra features a six-speaker sound system with an AM/FM radio and a CD player, which offers MP3 playback capabilities. An added bonus is that this vehicle offers a three-month trial subscription of SiriusXM Satellite Radio®, which provides hundreds of different stations to suit any listener.
For optional amenities, drivers can choose the 7-inch high-resolution color touchscreen audio display. If you choose this for your Hyundai Elantra, you also can opt for either Android Auto or Apple CarPlay, both of which allow you to stream music from your smartphone. This includes your phone's music library or internet radio apps like Spotify® or Pandora®.
Safety Features
Regarding active safety, the 2017 Elantra features an anti-lock braking system with Electronic Brake-Force Distribution, which helps the driver maintain control in an emergency stopping situation. Vehicle Stability Management and Traction Control work with you when the vehicle senses wheel slip or lane drift. They'll apply pressure to certain brakes while reducing engine speed to ensure that your vehicle gets back on track and finds the necessary traction to help you with safe driving.
In terms of collision protection, this vehicle offers advanced dual front airbags, which can sense the severity of impact and inflate accordingly. For additional protection, this vehicle offers side-impact airbags, side curtain airbags for all rows, and a driver's knee airbag. The Elantra also features front and rear crumple zones, which absorb the energy from an impact to help secure you and your passengers.
2017 Hyundai Elantra Review Conclusion
In this vehicle review, we showed you the important features of the 2017 Hyundai Elantra. You learned that this vehicle features an engine with decent horsepower and great gas mileage. You now know that it offers great entertainment technology, with more advanced features as optional upgrades.
Lastly, you learned about the safety features, including active safety features that help you stay in control and multiple airbags and crumple zones to protect you in the event of an accident. Overall, you learned that the 2017 Hyundai Elantra offers a lot, but a great way to get a better idea is getting behind the wheel for a test drive.
Schedule one in the 2017 Hyundai Elantra at St. Charles Hyundai, your trusted Hyundai dealership in the St. Charles, St. Louis, and O'Fallon area.