Style and technology go hand in hand with the Hyundai Kona, making it a favorable option for drivers in St. Charles, St. Louis, O'Fallon, and Saint Peters. If you're curious to see how the 2019 edition differs from last year's model, consider reading our 2019 Hyundai Kona review.
Our goal at St. Charles Hyundai is to give you easily accessible information, which is why we'll be discussing performance, infotainment, and interior dimensions in the coming paragraphs. So, strap in and get ready to learn about the playful Hyundai Kona!
Getting Started with Performance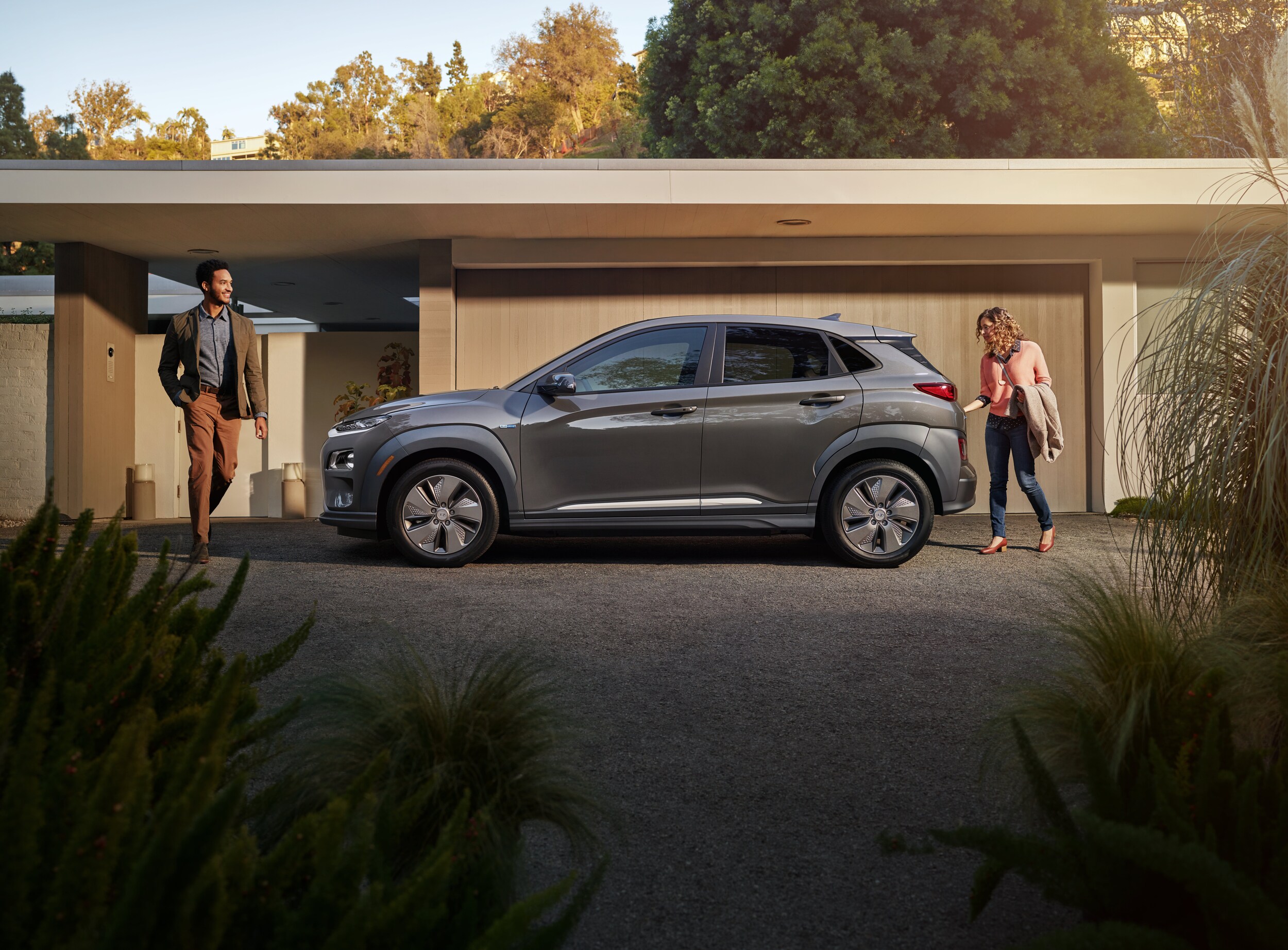 You'll have three opportunities underneath the hood of the 2019 Hyundai Kona. Plus, each motor feels energetic, the handling is superb, and the overall experience behind the wheel is smile-inducing.
The first available motor would be the 2.0L 4-cylinder that boasts a stately 147 horsepower, 132 lb-ft of torque, and is most often paired with a 6-speed automatic transmission. On the other hand, there's the 1.6L 4-cylinder turbocharged engine that generates 195 horsepower, 175 lb-ft of torque, and is typically found with a 7-speed automatic transmission.
If fuel economy is the driving motivation behind your next vehicle, then you'll love the final engine in the 2019 Hyundai Kona. This would be an electric motor that produces 201 horsepower and features a single-speed transmission. As for efficiency, this engine gets 132 MPGe in the city, 108 MPGe on the highway, has a 258-mile electric range, and takes roughly ten hours to recharge using a level 2 charger.
Interior Dimensions: Passenger & Cargo Space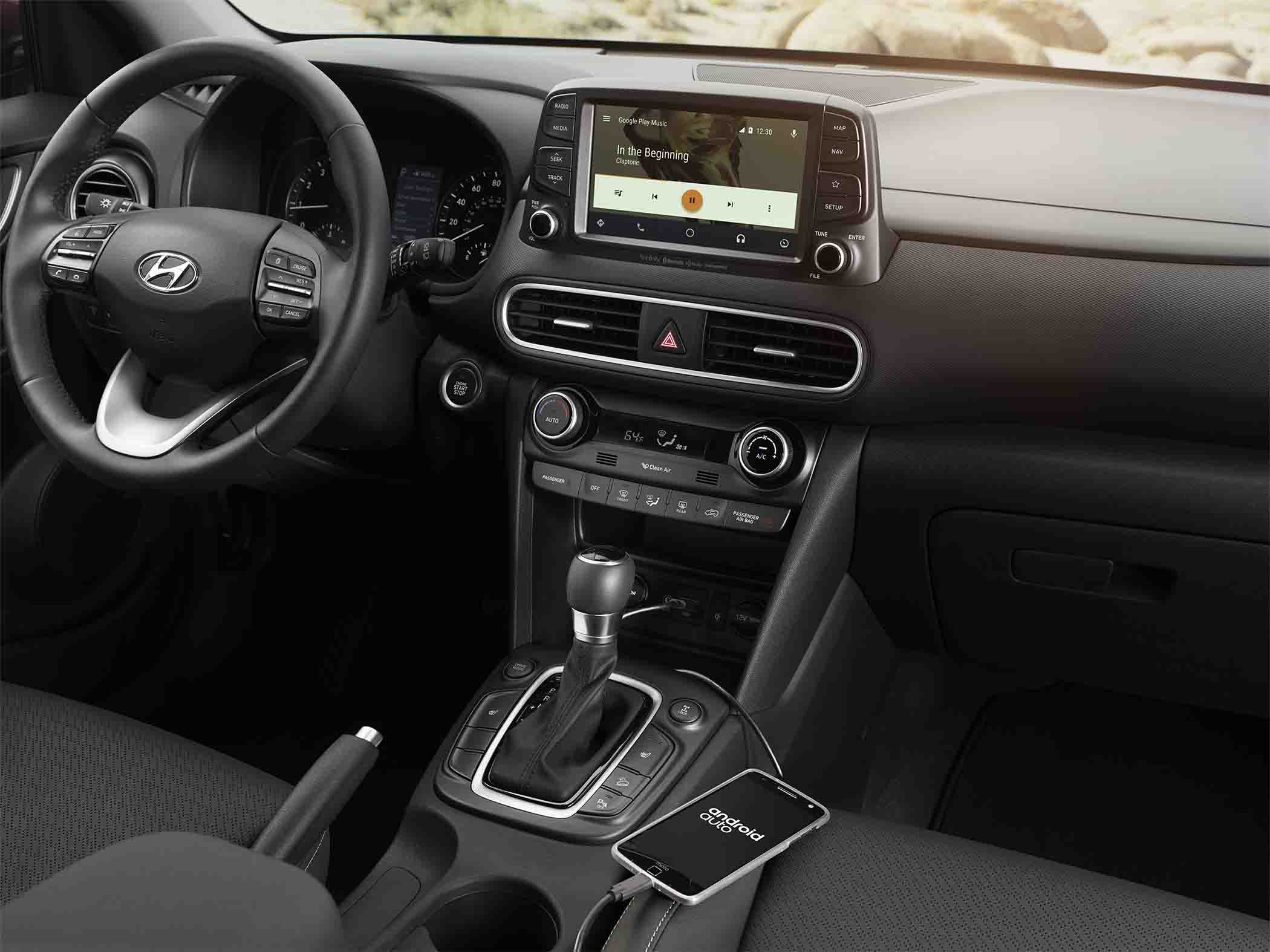 If you have a family full of children on their way to school, or a couple of playful dogs eager to go for a car ride, you'll admire the cozy, spacious interior of the 2019 Hyundai Kona.
This compact SUV stretches itself in all the right places, starting with the legroom, which measures 41.5 inches in the front and 34.6 inches in the rear. The seating capacity peaks at five people, and the total passenger volume is a generous 94.1 cubic feet.
As for cargo space, you can either keep the second-row seats standing and utilize 19.2 cubic feet of room, or you can fold those second-row seats down and instead take advantage of 45.8 cubic feet.
Adaptive Interior Technology
While you're making your daily commute, you can access a variety of technology in the Hyundai Kona to liven the mood.
For example, there's the available 8-inch touchscreen display that sports a crystal-clear and user-friendly interface. If your phone is running low on battery, just set it on the wireless charging station to reboot.
Finally, with Apple CarPlay™ and Android Auto™ you can access apps, music, or navigation on that same touchscreen after syncing it with your smartphone.
Get Behind the Wheel of the 2019 Hyundai Kona
If you want to see just how smooth and accommodating the 2019 Hyundai Kona really is, consider taking it for a spin around the winding roads of St. Charles, St. Louis, O'Fallon, and Saint Peters.
You can do this by contacting the helpful staff at St. Charles Hyundai!