Our service center at St. Charles Hyundai believes caring for your car's braking system is the easiest way to keep yourself safe while driving around O'Fallon and Saint Peters.
But, to do that, you need to understand how your braking system works, and all the components involved, starting with the difference between brake pads and rotors.
To help our St. Charles area customers properly diagnose their brake repair needs, we created this quick guide that explains how these two components work together.
How Brake Pads and Rotors Work Together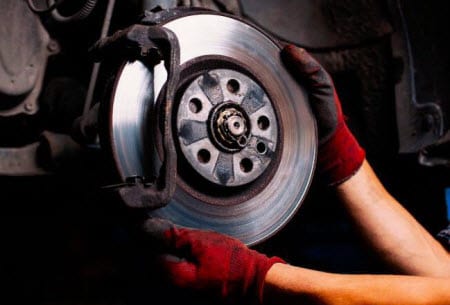 You're out for a drive and you see the light ahead turn red. You move your right foot slightly to the left, press down on the brake pedal, and the car comes to a stop. The experience is easy and second-nature; something we experience many times every single day.
It seems simple, but there are several parts that are hard at work, right under your feet. It works like this:
Pressing the brake creates pressure in the brake lines, which run down to the brake pads. They then compress around the rotor, causing a friction that stops the wheels from spinning, bringing the car to a halt.
What is a Brake Rotor?
A rotor, also sometimes called a disc, is a thick, round, flat piece of steel on the inside of the wheel that rotates at the same rate as your tires.
They're thick by design, so that they can effectively dissipate the heat that comes from being under pressure during the braking process. This keeps them from undergoing excessive damage. 
Signs of worn brake discs are:
A shimmying steering wheel when braking
Brake fade, or slower braking response
Brake pulsations during high-speed braking
If you notice any of these signs, schedule brake service with your local Hyundai maintenance center as soon as possible.
Brake rotors can last anywhere from 20,000 to 70,000 miles, depending on your driving habits, but may need to be replaced sooner if your brake pads regularly wear down to the point that the metal caliper rubs against the rotor.  
What is a Brake Pad?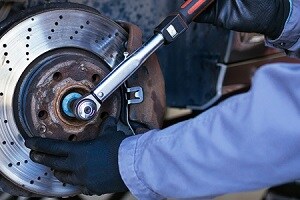 Brake pads are approximately the shape of the heel of a loafer. They have steel backing plates with a friction material on the surface that faces towards the rotor, with one brake pad on either side.
When you brake, they squeeze against the rotor, transferring the friction material, and slowing down the wheels.
Generally, brake pads should be replaced every 30,000 miles or so, but have them checked with every oil change (Hyundai recommends every 7,500 miles). Look at your owner's manual or contact your local Hyundai dealer for your specific vehicle's needs.
Also, be sure to pay attention for clues that you need new brake pads, like a squealing noise, a slight pull to one side when braking, a vibrating brake pedal, or a constant clicking noise.
If you're proactive about replacing your brake pads, you can protect yourself from expensive damage to other components of your braking system.
Schedule Brake Service Today
If you notice any of the warning signs listed above while driving around the O'Fallon and Saint Peters areas, it's important that you contact your local Hyundai service center as soon as possible.
If you're in need of service on your brake pads or rotors, St. Charles Hyundai is right here in the St. Charles area, so use our online portal to schedule your brake service today.