Getting Brake Service in Saint Peters MO
As the proud owner of a vehicle, you need to ensure that your car is in great shape before taking it on journeys in the St. Peters, O'Fallon, Saint Charles area. It's always important to keep an eye and ear out so you can notice if any part of your vehicle isn't functioning properly. One of the most common problems that our team at St. Charles Hyundai deals with is brake issues. We're always helping drivers with our brake service in St. Peters.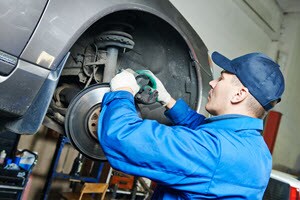 In this guide, we'll help you determine if you need brake service in Saint Peters by showing you the common symptoms that tell you your brakes aren't functioning properly. By reading this article, you'll be well informed of the different signs that tell you that it's time to get your brakes looked at.
Symptoms of Brake Issues
Having brake issues is never the easiest experience when you're behind the wheel. In fact, it can be pretty scary. Your brakes are responsible for letting you stop the vehicle, and in an emergency situation, functioning brakes are crucial to the well-being of your vehicle, your passengers, and you.
One of the most obvious signs is your brake dashboard indicator light. This light generally goes off when your parking brake is still engaged, or if you're low on brake fluid. Another big sign is a slow response when you apply pressure to the brake pedal.
There are also signs that you can pick up with your senses. In terms of audible symptoms, listen out for squealing or clicking. Squealing usually means that your brake pads are wearing and their wear indicators are emitting this high-pitched sound. If your brake pads are loose or cracked, you'll eventually hear a clicking sound. Either way, you'll want to have your brake pads replaced because if not, they could cause damage to the rotors, which would result in a more expensive form of brake service.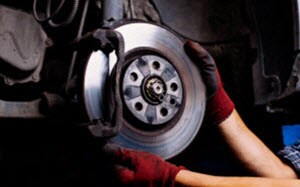 Having Your Brakes Serviced in Saint Peters
When you've noticed one or a few of these signs, it's best not to dwell. Instead, you should spring into action and find the right brake service in Saint Peters. It's never a good idea to postpone an important service like brake repair. Driving without fully functional brakes can lead to an accidental collision or worse, so don't put off something as crucial as brake service.
When it's time to get your brakes repaired, look no further than St. Charles Hyundai. Our dedicated team of certified technicians will carefully inspect the issue to find the cause of the problem so it can be fixed. When you come to the service center at St. Charles Hyundai, you're in the best hands around. You'll notice a clear difference in pedal response and braking power after your service appointment.
At St. Charles Hyundai, we're always happy to help drivers from the St. Peters, O'Fallon, and Saint Charles areas take care of any automotive issues. Schedule your brake service with us today!