There are several steps that you will need to complete when purchasing a new vehicle, but the most important is securing your financing. For many people, financing a vehicle can be very stressful, both because of the complicated nature of auto loans and the worry that their finance application will be denied. Fortunately, when you're ready to buy your next vehicle, you have the option of working with the auto finance center at St. Charles Hyundai.
The St. Charles Hyundai auto finance team is proud to work with customers from Saint Peters, St. Charles, O'Fallon and St. Louis, and is ready to guide you through the loan application process. Learn more about the steps to successful Hyundai financing, and find out why you need to work with the St. Charles Hyundai finance center. Call Us to speak with one of our financial experts today!
---
How to Protect Your Hyundai From Being Stolen
How to Finance a Used Car
Gap Insurance Refunds
---
Using Direct Lending
When many people need to finance a vehicle, they choose to do so through direct lending. If you choose direct lending, you'll get your loan through a traditional lending institution like a bank or a financing company. While this lending option does provide some advantages, including the ability to comparison shop, it can be a bad choice if you have low, bad or no credit. Additionally, direct lenders generally offer terms that are best for them and not for you. Use our helpful Hyundai Financing tools:
Dealership Financing
If you prefer to avoid using direct lending, you can choose dealership financing, which is what you'll get when you work with the St. Charles Hyundai finance center. Dealership financing provides several benefits, and is the much simpler solution when you need a loan to purchase a new car.
First, getting dealership financing is very convenient, as it allows you to purchase and finance your vehicle at the same location. Second, dealership finance centers often have relationships with multiple financing companies and banks, giving you access to more competitive terms. Finally, dealerships often provide special lending programs that allow consumers with low or bad credit to get a better loan than they would receive otherwise.
When you need to purchase a new vehicle, choosing dealership financing from the St. Charles Hyundai finance center is your best choice.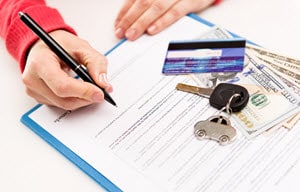 St. Charles Hyundai Finance Team
If you want the easiest and most rewarding loan application experience of your life, there's no better choice than working with the St. Charles Hyundai finance center. Our team of financing experts makes the loan application process simple and stress-free. One of our Hyundai finance specialists can walk you through the loan application process so that you can get the loan that you need for your new or pre-owned car.
We work with consumers with all levels of credit and offer the option to prequalify for financing. Our finance center also provides specials so you can get the car you need.  
Get Help with Hyundai Financing
If you're ready to drive around Saint Peters, St. Louis, O'Fallon and St. Charles in a new or used vehicle, then you need to get help with auto financing from the St. Charles Hyundai finance center. In addition to help with financing, St. Charles Hyundai offers a great selection of vehicles, a knowledgeable sales staff and a service and parts department that can keep your vehicle on the road. Visit us today to start shopping for your next car.