At St. Charles Hyundai, we're happy to have our drivers in the St. Charles, St. Louis, and Saint Peters area stop in to see us and ask questions about the newest vehicles on our lot. However, many drivers are intrigued by one feature in our Hyundai cars: the Hyundai Blue Link. So, to provide a helpful resource for drivers who are looking to learn more, here's our guide to the Hyundai Blue Link. We'll go over what it is, what it does, and how it adds to the experience of driving your Hyundai.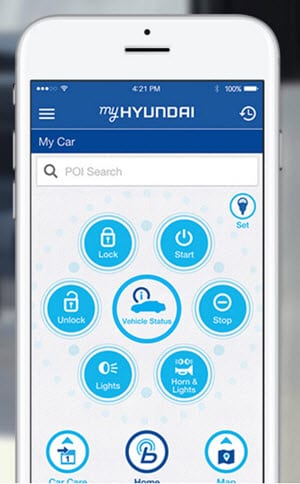 Hyundai Blue Link System
The Hyundai Blue Link is a vehicle telematics system that's integrated into your vehicle. It acts as your vehicular butler by helping you during your trips as well as keeping you updated on valuable information. While the system is connected to your vehicle, you can download an app on your phone that will give you immediate access to your vehicle-even if you aren't in it. This system was designed to make the act of driving and being a car owner more fun, easy, and convenient. It even features guidance, providing you with turn-by-turn directions and even traffic updates while heading to your destination.
What Can the Hyundai Blue Link Do?
The Hyundai Blue Link can do a lot for you. It provides you with a monthly vehicle report so you can stay updated on any upcoming services your vehicle will need. The app even features Service Link, which lets you easily schedule a car care appointment with your preferred dealer.
The Remote Access is one of the most convenient aspect of Hyundai Blue Link. From your phone, you can unlock the doors and start the vehicle remotely. You can even adjust the temperature inside your vehicle to compensate for the brisk or hot weather. You can even use this system to locate your vehicle if you can't remember where you parked. The Hyundai Blue Link even features Stolen Vehicle Recovery, which can help authorities locate your vehicle after it has been stolen.
How Hyundai Blue Link Helps
On top of convenience, Hyundai Blue Link is there for you when you need it the most. This system features the Enhanced Roadside and SOS Emergency Assistance. This feature allows you to hit a button and connect with a representative who will aid you by contacting a tow truck or any roadside repair service.  Always remember if your Hyundai ever does need service, schedule an appointment with us today and we'll get you back on the road.
The Hyundai Blue Link also features the Automatic Collision Notification. If the vehicle endures an accident on the road, this system will automatically notify emergency responders with a status of the collision as well as your GPS coordinates so the responders can find you easily.
Getting Hyundai Blue Link
When you buy a Hyundai, you have the option of including Hyundai Blue Link with your vehicle. There are three different packages included with Hyundai Blue Link, like Connected Care, Remote, and Guidance. It's a subscription based service, but packages like Connected Care and Remote Package are included in a three-year complimentary service.
Interested in learning more about Hyundai Blue Link? Contact us at St. Charles Hyundai for more information. We're always excited to help our drivers in the St. Charles, St. Louis, and Saint Peters learn more about this great service.