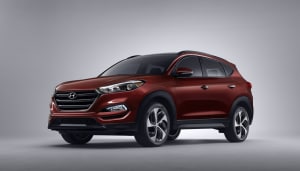 Welcome to the St. Charles car comparison library. These articles are free for drivers across the St. Charles, St. Louis, and O'Fallon area to use during their research for their next vehicle. On this page, you'll find our most relevant and up-to-date collection of car comparisons. All you have to do is click on the model you're interested in and see whereit stands next to a similar model.



Hyundai Santa Fe Sport Comparisons
Hyundai Santa Fe Sport vs. Ford Escape
Hyundai Santa Fe Sport vs. Honda CR-V
Hyundai Santa Fe Sport vs. Kia Sorento
Hyundai Santa Fe Sport vs. Mazda CX-5
Hyundai Santa Fe Sport vs. Nissan Rogue

Importance of Car Comparisons
One of the major reasons that people read car comparisons during the research process is to see how the model they're interested in measures up to the competition. These articles explore the various features that each vehicle offers and draw a fair conclusion as to which one has the advantage. Sometimes, vehicles seem similar, but when you delve in deep, you can really see the differences.
These car comparisons help you learn about the various features and specifications that make each vehicle unique. By reading these informative articles, you'll learn what's out there in terms of features, and you'll know what to look for with your next vehicle.
When you read these articles, you gain in-depth knowledge of the vehicle that you're interested in. You may even learn about new and exciting features like Bluetooth® or driver-assist technology that may alter your decision as to what's out there. If you have a couple potential vehicles, these articles will help you narrow down your list and prepare you for the best part of the research process: the test drive.
Our Car Comparisons
Our car comparisons on this page are designed to give you the most important information that you need for your vehicle research. These articles are written in a way that's easy to understand while providing you with the information that you need to help you with your decision.
You'll learn about the unique design of each vehicle, their engine power, the entertainment features, and safety. We won't bore you with things like air conditioning or intermittent wipers because those features have been standard on every vehicle for many years. Instead, we'll focus on the cutting-edge technology and how it compares with other vehicles.
After you've read a few of our vehicle comparisons and you know which vehicle you're interested in, then you can schedule your test drive with us at St. Charles Hyundai. We're always happy to help drivers in the St. Charles, St. Louis, and O'Fallon area with their vehicle research and finding the car that's right for them.