Now that Halloween is around the corner, you're looking for ways to add a little fright to your life. You could always binge watch horror movies on Netflix, but wouldn't you want to experience the actual scare in person?
Luckily, this time of year, there's a variety of ways to get your Halloween scare. Finding the best haunted attraction around this holiday can be tricky, though, because there are so many options to choose from. But you don't have to struggle finding the scariest one because we'll help you.
Here's our list of the scariest haunted attractions near St. Charles, MO. Check them out-if you dare.
St. Louis Escape
You could always go on a haunted hayride, but why not go one step further with St. Louis Escape? Escape the room games have become increasingly popular across the country because they're a one-of-a-kind experience where you can test your wits and will. However, Halloween is another ballgame entirely. Try to find your way out of an endless labyrinths while you're being chased by ghosts, goblins, and ghouls.
St. Louis Escape features three rooms: Curse of the Mummy Escape, Cellar Escape, and Subway Escape. Each room features a different level of difficulty and scares. You can even play laser tag with zombies to add a little fun, as well as fear, to your Halloween adventures.
Lemp Mansion Restaurant & Inn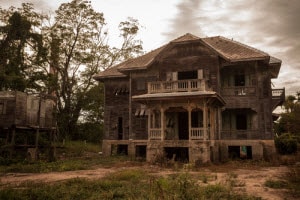 Do you really want a scare? Visit the Lemp Mansion Restaurant & Inn and maybe you'll get more than you bargained for. This mansion was built in 1868, and since then, spooky sightings have occurred. The legend is that the Lemp family, who lived in the mansion until 1949, haunts the property.
This mansion has been on Ghost Hunters and FEAR, and it even made the list of the Travel Channel's Most Terrifying Places in America.
At the Lemp Mansion, you can stop in for some delicious food or partake in the Haunted History Tour and learn about the history of the Lemp family. Maybe you'll even get to see one of them.
Phobius Haunted House
Looking for a good scare on your weekend? You may want to visit Phobius Haunted House. This haunted house has been scaring the people in the St. Louis area since 2012.
Getting a scare here isn't too hard because as you're walking through the dark hallways and passages, various creepy characters will go out of their way to frighten you. You'll encounter ghosts, zombies, masked lunatics, and maybe even the grim reaper himself. Make your way from room to room and try to find your way out without getting snatched by monsters and maniacs.
Phobius Haunted House is the fastest-growing and most well-reviewed scare attraction in the St. Louis area. Bring your family and friends for a good scare. Just remember, enter at your own risk.
There you have it, our list of the scariest haunted attractions near St. Charles. Try them all and let us know which one scared you the most!