The transmission in your vehicle is one of the most important components underneath your hood. Without it, your vehicle would fail to move. As a driver, it's important to be aware of the many problems that your transmission can face.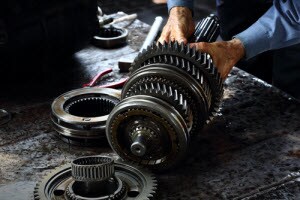 To help our drivers in the St. Charles, St. Louis, and O'Fallon area, we're going to list the top 6 transmission problems you can't ignore. By reading this article, you'll be ready to identify the many problems that could occur with your transmission.
1. Leaking Fluid
Like most important and expensive components in your vehicle, transmissions require fluid to work properly and stay cool while performing. Transmission fluid can be bright red or dark brown, so if you notice a puddle of fluid under your vehicle, you'll know that it's your transmission fluid.
2. Slipping
If you notice that your transmission is slipping in and out of gear, it might be time to schedule an appointment at the shop. You'll notice this if your vehicle is sluggish and not speeding up as much as it normally would when you accelerate.
3. Lack of Response
When you shift from park to drive, you should notice a smooth transition. If this simple shift takes its time and your vehicle delays its response, it's likely that you're experiencing a problem with your transmission. Be sure to get a professional to check under the hood to see what the problem is.
4. Excessive Noise
There's a multitude of sounds that indicate a problem under the hood, but the important thing is being able to differentiate these sounds to determine the cause. If you notice a whining or humming sound, it's likely that your transmission is the cause. Don't let the sounds go on for too long because this indicates a serious problem that requires professional attention.
5. Vibrations
Your vehicle shouldn't vibrate unless you're driving over rough terrain. However, if you notice that your vehicle is vibrating or grinding on smooth surfaces, there's a problem. Be sure to check and make sure that it's the transmission.
6. Check Engine Light
The most obvious sign that there's a problem with your transmission is your check engine light. It indicates a problem with many engine components, so it could be something simple or it could be your transmission. Take your vehicle for service to determine why the light is on.
Fix Your Transmission Problems Today!
Drivers in the St. Charles, St. Louis, and O'Fallon area who notice any of these signs can always schedule service with us at St. Charles Hyundai. Our team of technicians uses the latest automotive technology and diagnostic tools to find the source of the problem so they can find the best possible solution to fix it.
Transmission replacements can be expensive, so being aware of a problem and having your solution right around the corner is imperative. And at St. Charles Hyundai, we're happy to help.
Do you notice any of these signs with your vehicle? Schedule your service at St. Charles Hyundai before it's too late.