Drivers in the St. Charles, O'Fallon, and Saint Peters areas know that oil is important to the well-being of their Hyundai. They also know their oil requires a change every now and again to ensure their vehicle performs at its best. However, some people don't know what type of oil their Hyundai requires.
In this article, we're going to provide some important information about oil. You'll learn about what oil does, what types there are, and what kind of motor oil your Hyundai needs. By reading this review, you'll be on top of your vehicle's needs when it comes to oil. 
What Motor Oil Does
Oil helps lubricate the moving metal parts in your engine. It also helps disperse heat to keep your engine cool. Without oil, these moving parts would grind against each other and cause friction. Over time, there would be considerable damage to your engine.
Changing your oil is an important and common form of maintenance. Over time, your oil gets dirty due to the crud that it picks up while lubricating the engine parts. It starts out as a honey brown color, but by the end it looks black and murky. When your oil looks like this, it's imperative to have it changed. 
Types of Motor Oil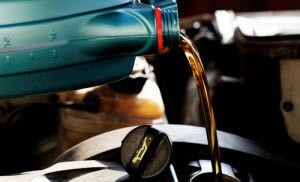 Conventional oil and synthetic oil are often in contention for being the best type of oil for your engine. However, their differences in quality are amazingly apparent. 
Conventional oil is made from crude oil with a few additives to help with heat tolerance and viscosity. This type of oil tends to break down and requires a change more frequently.
Synthetic oil is engineered to withstand heat and breakdowns. It also has properties that can clean your engine components more effectively than conventional oil. The biggest advantage this oil has is that it can last much longer than conventional oil. Using conventional oil results in more frequent visits to the shop. 
What Type of Oil You Should Use for Your Hyundai?
Whether you like to change your own oil, or you find customer lounges comfortable and inviting, the right oil can make all the difference to your vehicle's performance and health. Hyundai recommends you use Quaker State Ultimate Durability Fully Synthetic Motor Oil. This oil is specifically designed to withstand heat and help improve fuel economy. 
Getting Your Oil Changed
When it's time to have your oil changed, you could always do it yourself, but wouldn't you want the professional touch? At St. Charles Hyundai, our shop is stocked with the latest tools and technology that makes your oil change a breeze. You can even schedule your service with us online. Then, you can rest assured knowing your vehicle is in great hands and receiving the exact oil it needs to perform smoothly and efficiently.
Schedule your oil change at St. Charles Hyundai-we're always happy to help drivers in the St. Charles, O'Fallon, and Saint Peters areas.