When you're making your way around the St. Charles, St. Louis, and O'Fallon areas, you never expect to have an issue with your vehicle. However, one of the most common issues is the engine temperature warning light coming on. So, if you've ever experienced sitting on the side of the road asking yourself "Why is my car overheating," our team at St. Charles Hyundai has some answers for you.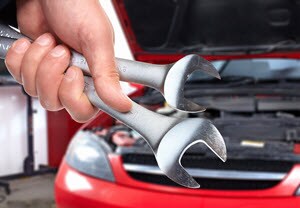 In this guide, you'll learn about the possible reasons why your car and engine are overheating. We'll also let you know what you should do when this happens. This information will be helpful for when you experience an overheating vehicle.
Common Causes for an Overheating Car
There are a couple reasons for why your vehicle is overheating. The most common cause is a leak in your cooling system. When there's a leak, your coolant level drops and air gets in the system, creating an airlock, which eventually leads to the engine's heat increasing. Another issue that can occur with your cooling system is blockage. If the system is blocked, coolant won't be able to circulate to help disperse heat.
Low oil level can also be responsible for your engine overheating. Oil works to lubricate the moving metal parts, but it also helps keep them cool by dispersing the heat. When there's not enough oil, the metal parts will continuously move, but they'll start to cause friction, which, in turn, creates heat.
What Your Should Do When Your Vehicle Overheats
When you're driving along and your engine temperature warning light is flashing, be sure to find a safe spot to pull over as soon as possible. Turn off the engine and let it cool before you even think about opening the hood. You may have to wait a little bit, but ensuring that your engine has cooled is of the utmost importance.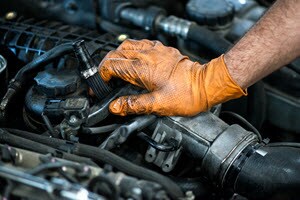 If you're the kind of driver that plans ahead, you'll have coolant/antifreeze readily available in your vehicle. However, this isn't always the case, and if you don't have spare liquids in your vehicle, you may need to seek out assistance. Of course, if you're within proximity to a gas station or convenience store, you could head over and purchase some coolant and pour it into the reservoir.
Fixing the Issue
If you've endured the overheating engine, then you know that filling it with coolant is usually a temporary fix. But it can be helpful with buying you time to get to a service center like the one at St. Charles Hyundai. If you're experiencing an overheating vehicle, you can always contact us for help. Our team of technicians will run a full diagnostics check to find the culprit behind your overheating engine. We'll be sure to fix the problem so you can continue driving around without having to worry about your engine overheating.
At St. Charles Hyundai, we're always here for our drivers in the St. Charles, St. Louis, and O'Fallon areas.