The holiday season is a time for celebration. We celebrate spending time with family and loved ones by throwing parties, giving each other gifts, and eating plenty of yummy food, especially sweet treats. To take your sweet snacking to the next level this holiday season, check out St. Charles' best bakeries to get your holiday desserts.
Sucrose
After graduating from the Culinary Institute of America, Sucrose founders Agi and Aaron Groff set off on a mission to provide St. Charles with superior artisan baked goods made with local, seasonal, and natural ingredients.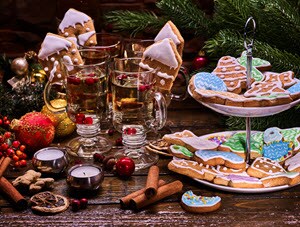 With their do-it-all attitude, these seasoned bakers craft an array of tasty pastries on a daily basis for the café case. On top of baking all of this on their own, the shop's sole two bakers cater to custom cake orders. You can choose everything down to the size of the cake you want in square inches.
SugarBot Sweet Shop
With just a KitchenAid mixer and a passion for baking, the founder of SugarBot Sweet Shop took the leap into the bakery business in 2012. This shop's main focus is on cookies, but not just any cookies. With the company motto of baking Childhood favorites, better than you remember them, this shop cranks out batch after batch of traditional beloveds that satisfy both your sweet tooth and your nostalgia.
The crème of the SugarBot Sweet Shop crop is their customized decorated sugar cookies. Just tell them what you want atop their soft, freshly baked sugar cookies, and then prepare to be amazed by both the vibrant colored icing and the taste you'll crave until next Christmas.
STLCakePops
STLCakePops takes traditional cakery and puts a fun twist on it. Rather than baking and decorating ordinary sheet cakes, STLCakePops specializes in baking fun bite-sized cakes. Customize a batch of classic cake pops, so both the vanilla lovers and the chocolate lovers are satisfied.
STLCakePops makes holiday treats for more than just humans. Stop by their shop on Tecumseh Street to pick up some festive pet treats, so the furry members on the family can celebrate the holiday season, too!
We're wishing you a sweet holiday season!