Going out to brunch marks the beginning of a perfect day. Whether you decided to sleep in, or you wanted to take your time getting the day started, brunch is a great intermediary to breakfast and lunch. But finding the right spot to enjoy your meal can be tough, considering the number of eateries in St. Charles. We decided to do the research, and we came up with a list of the best brunch places in St. Charles. Try all these restaurants so you can find your favorite spot to have brunch. 
Crooked Tree Coffee House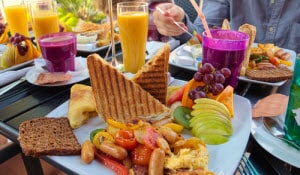 559 First Capitol Drive, St. Charles, MO
There's nothing like starting the day with a great cup of coffee. You'll get more than just a cup of joe at the Crooked Tree Coffee House. This family-owned and -operated coffee shop and eatery is open all week, providing ample time to sample some of the delicious menu options. Start off with a Cafe Latte, an Almond Roca Mocha, or a Java Jolt before you start eyeing the brunch options.
The Crooked Tree offers a variety of breakfast options. If you like taking the traditional route, you may want to sample the Oh So Cheesy Omelette or the Down Home Pancakes. You could change it up with the Eggs Benedict Sandwich or The Santa Fe Melt. But if you do stop in, you'll really want to try a crepe, offering Western, Monte Cristo, and Florentine options. 
Gingham's Homestyle Restaurant
1881 Sherman Drive, St. Charles, MO
Gingham's Homestyle Restaurant has been a St. Charles breakfast staple since the doors first opened in 1991. Gingham's is a 24-hour restaurant that serves a full breakfast menu, allowing you to get your brunch fix, even if other patrons have moved on to dinner. The breakfast options are vast, so you may have trouble landing on your perfect dish for brunch.
This eatery offers all the breakfast staples like Eggs with Biscuits and Gravy, Country Fried Steak and Eggs, and The Classic, which is two farm-fresh eggs with toast and hash browns. Gingham's also offers a variety of Eggs Benedict dishes, as well as numerous omelettes, waffles, and pancakes. Stop in any time of the day to get your brunch fix. 
Prasino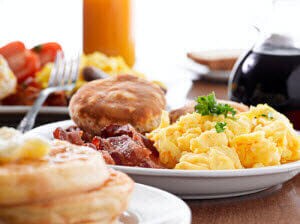 1520 South 5th Street, St. Charles, MO
If you're looking for an eco-friendly restaurant that provides farm-to-table options, you may want to check out prasino. While this restaurant offers a classy and stylish atmosphere, it's the food that'll leave a lasting impression. Luckily, prasino serves breakfast until 3:00 PM, so you can take your time adjusting to the day before you sit down for your first meal.
When it comes to choosing the right breakfast, you'll have many options to consider. If you're looking for something simple, Two Eggs Your Way is a great option. If you'd like a tasty and classy brunch, the Maine Lobster Omelet may be up your alley. Of course, you could always enjoy some delicious pancakes, crepes, or French toast. 
Now that you're aware of some of the best brunch restaurants in St. Charles, you're ready to find your favorite spot to enjoy a late breakfast or an early lunch.