Summertime is here and people in the St. Charles, St. Louis, and O'Fallon area know it can get really hot. There's no better way to cool down than indulging in some ice cream. This delicious frozen treat is the perfect complement to a hot summer day, so to give you a better idea where to get the best scoops, here's a list of the best ice cream shops in St. Charles.
Doozles Frozen Custard
Doozles Frozen Custard has become a dessert staple in St. Charles. They offer a wide variety of frozen treats that are sure to satisfy your taste buds on hot summer days. You can get soft serve, hard ice cream, floats, shakes, and sundaes. You also have your choice of a waffle cone with sprinkles or nuts or you can try brown or black cows, their famous frozen custard blended with root beer or cola.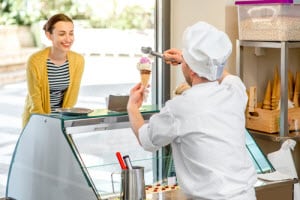 If you don't want to deal with a dripping ice cream sundae, you can turn it into a concrete. This process involves taking your sundae, with ice cream, sauce, and toppings, and mixing it all together. The result is a deliciously satisfying drink where you can enjoy your sundae without the mess. You can also take home one of their signature ice cream cakes for your next birthday party.
Kilwins
Kilwins has been an ice cream landmark in the St. Charles area since 1947. Since then, they've continued their tradition of supplying their customers with the freshest ingredients topped with wonderful customer service. Since Kilwins has been in the ice cream game for a long time, you can tour the kitchen and watch how they craft their many flavors in a rustic American-style kitchen.
Kilwins' original recipe ice cream offers a variety of flavors, both classic and modern. You can enjoy a nice scoop of chocolate chip cookie dough or you can try Mexican chocolate with cinnamon to broaden your palate. It's one of many limited edition flavors, also including the perfect apple pie and the all-American two berry pie.
Riverside Sweets
Riverside Sweets is a unique family-owned and -operated candy and ice cream shop that offers a vast array of delightful treats that are sure to satisfy your cravings. Riverside Sweets offers 16 flavors of hand-scooped ice cream from Kemp's Dairy in Minneapolis year-round. From April to October, Riverside Sweets features 24 flavors of deliciously satisfying ice cream.
Try any of the flavors and top it off with some homemade candy. That way you can enjoy a sundae with some fresh-made ingredients. 
Any of these locations is perfect for people like you in the St. Charles, St. Louis, and O'Fallon area, so stop by with the family and indulge in some tasty frozen treats this summer!