When you want something other than pizza for your weekend dinner, why not try sushi? Sushi is more than just raw fish, as it's packed with nutrients, protein, and fatty acids and tastes great.
Don't worry, though-you don't have to book a flight to Japan to sample some great sushi. There are several sushi restaurants in the St. Charles, St. Louis, and O'Fallon area where you can get your roll on.
Here's our list of the best sushi restaurants near St. Peters.
Crazy Sushi
Crazy Sushi has been serving sushi and sashimi to the St. Peters' area for over 23 years. This restaurant offers a wide variety of options that you can really sink your teeth into. If you're looking to sample some great sushi while on a date, spring for the Crazy Boat for Two. This combination plate offers two rolls of chef's choice with 10 pieces of nigiri. Get crazy tonight at Crazy Sushi!
Hibachi Boy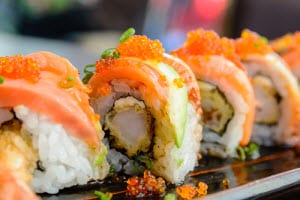 If you don't have the time or energy for dinner and a show, why not do both with Hibachi Boy? There's no better way to enjoy a dinner than having it made in front of your very eyes. 
Not only does Hibachi Boy offer Hibachi-style cuisine, but there's also an extensive menu of simple, classic, and vegetarian sushi rolls. Try the deep-fried soft shell crab roll, which features soft shell crab, cream cheese, asparagus, avocado, and sesame seeds topped with three different sauces: eel sauce, spicy mayo, and sriracha.
Kitaro Bistro of Japan
Kitaro Bistro of Japan offers a unique dining experience in an upscale environment with affordable Japanese cuisine. This location offers a full liquor and sushi bar, so you can enjoy a nice cocktail while chowing down on some rolls like spicy tuna, Boston, or a little taste of home with the St. Charles. This sushi roll features deep-fried red snapper, cream cheese, and cucumber. Kitaro Bistro of Japan even offers half price sushi Monday through Thursday from 11 am to 3 pm. Stop in for lunch and save on some great sushi!
Lucky Sushi House
Lucky Sushi House is a family-owned and -operated business that's been supplying the St. Charles area with great sushi since 2003. At this restaurant, you can enjoy your favorite classic Chinese dishes and top it off with some sushi or sashimi. Enjoy some Arctic clam or a masago California roll or try a platter with a little bit of everything.
Sushi Ai
Sushi Ai offers a variety of seating locations, whether you're looking for a private dinner or you want to be a part of the dining hall. Start your meal with some tuna pizza then work your way down the menu with rolls like the salmon skin, black & white, and Philadelphia. You can even order online, so enjoying some great sushi is just a click away.
For sushi lovers in the St. Charles, St. Louis, and O'Fallon area, any of these locations can satisfy your cravings for some fresh, high-quality sushi.