Welcome to the St. Charles Hyundai dashboard symbols library. As a Hyundai dealer to drivers all across the St. Charles, St. Louis, and St. Peters area, we try to be more than just a location for people to purchase vehicles. We're actually a great source of helpful information regarding your vehicle. One of the ways that we help our drivers is by providing them with informative guides, like our dashboard symbols guides. 
Hyundai Accent Dashboard Symbols
Hyundai Azera Dashboard Symbols
Hyundai Elantra Dashboard Symbols
Hyundai Ioniq Dashboard Symbols
Hyundai Santa Fe Dashboard Symbols
Hyundai Santa Fe Sport Dashboard Symbols
Hyundai Sonata Dashboard Symbols
Hyundai Tucson Dashboard Symbols
Hyundai Veloster Dashboard Symbols
Our Hyundai Dashboard Symbols Guides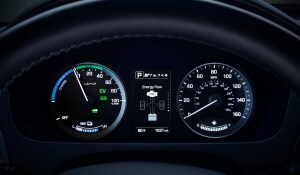 When you're driving around, it's never a good feeling when you see a symbol appear on your dashboard. It could mean anything from an engine failure to a turn indicator that you forgot to deactivate. This kind of confusion can be troubling to drivers. That's why we have these informative guides, so drivers can differentiate between the many different lights that can appear on their dashboard. 
How These Dashboard Symbols Guides Can Help You
Drivers tend to panic when they see an ominous symbol appear on their dashboard. They don't know what to do or who to call. The fear of irreversible damage is prevalent, but these guides try to quell your fears by letting you know what the light means, and what you should do in the event that one should appear.
These guides will carefully explain the difference between indicator lights and warning lights. You'll learn what each light is telling you when they first appear, or when they start flashing. By learning what these lights mean, you'll be able to decide on what do in the situation that one comes on while you're out on the road. 
Do I Need to Read These Guides?
While our Hyundai dashboard symbols guides are information, they are not mandatory reading. As a Hyundai dealer, we have a commitment to our drivers, and part of that commitment is offering helpful information. However, if you're curious to learn about your dashboard symbols, then you may want to give them a read.
Simply look above and locate your Hyundai model, click the link, and learn about the different lights that can appear on your dashboard.
At St. Charles Hyundai, we're always happy to be a helpful resource for our drivers in the St. Charles, St. Louis, and St. Peters area.